Government troops say advancing on rebel stronghold of Pagak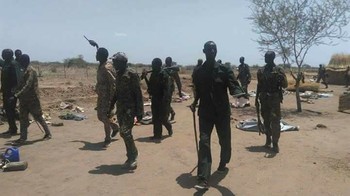 Government troops supported by forces loyal to the country's First Vice President Taban Deng Gai announced that they are advancing on rebel stronghold in Pagak area in spite of a unilateral ceasefire declared earlier this year by President Kiir.
Pagak area was established as the opposition headquarters by Riek Machar when civil war began in the world's youngest nation in late 2013.
Speaking to Radio Tamazuj this afternoon, Dickson Gatluak Jok, spokesman of the SPLA-IO faction in Juba, said troops allied to President Kiir and their forces have captured Mathiang, Luajak and Thoc areas in Longochuk County last week.
However, Dickson claimed that there were no scheduled military operations in the area. He accused the opposition of attacking their defensive positions and causing insecurity around oil fields in Upper Nile.
"That's why the SPLA-IO forces under the leadership of Taban Deng decided to expel those people from Pagak and Maiwut because they are posing a security threat," he said.
"Those people [rebels] started attacking our positions, so what happened was retaliation and we fought. They don't control themselves although they don't have ammunition," he added.
Opposition spokesman William Gatjiath Deng said government troops had captured Marial and Thoc areas in Longochuk last week. He further said the government forces could not enter their stronghold in Pagak.
He pointed out that at least five soldiers were killed from their side and 21 others wounded during clashes. He pointed out the fighting was getting worse due to heavy rains in the area.
The United Nations said recently that at least 25 aid workers have been evacuated from the area of Pagak and its surrounding areas due to insecurity.
The world body also said about 50,000 civilians in the rebel-held area near the Ethiopian border have been cut off from humanitarian assistance.