Government troops block monitoring team from accessing Kajo-keji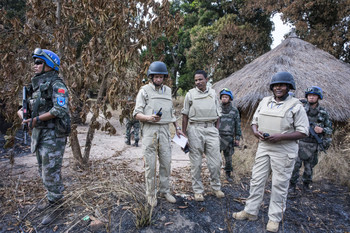 File photo: CTSAMM team in Yei. (UNMISS/Isaac Billy)
The Ceasefire and Transitional Security Arrangements Monitoring Mechanism (CTSAMM) said its monitoring team was stopped by government troops at a checkpoint near Rejaf area en route to Kajo-keji this week.
In line with the signed peace agreement, the CTSAMM is tasked with the monitoring of the implementation of the Permanent Ceasefire and Transitional Security Arrangements (PCTSA).
In a statement seen by Radio Tamazuj on Thursday, CTSAMM said its team was travelling to Kajo-Keji to monitor the strict implementation of the ceasefire as recommended by the recent IGAD summit of heads of state and government.
The ceasefire monitoring body further said the patrol team included members from UNMISS, adding the joint patrol was stopped on Tuesday by government troops.
The body condemned in the strongest terms the denial of the freedom of movement to its Monitoring and Verification Teams (MVTs) guaranteed by the peace deal and associated agreements.
The CTSAMM called on the government to ensure freedom of movement to conduct missions it has been assigned under the 2015 peace agreement.
SPLA spokesman Santo Domic could not immediately be reached for comment.