Government, traders agree to reduce commodity prices in Torit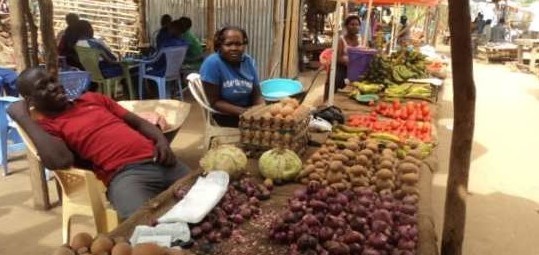 The Eastern Equatoria State trade ministry and the business community have reached an agreement to reduce commodity prices in Torit town.
This followed the steady gains made by the South Sudanese Pound against the US dollar and the consensus was reached during a monthly meeting of the traders' representatives and the Ministry of Trade and Industry last week.
The discussion focused on devising solutions to traders' complaints about double taxations, a new 3 percent tax and increment of tax rates by some local authorities, sanitation, and security fees.
The trade ministry Director General, Stephen Ihude Oduho, said as a result of the momentum gained by the local currency, traders should automatically adjust to the current market situation by reducing the prices of items.
"The outcome that was given back to the business people was that indeed the government has decided that what should be legally applicable is the 2 percent tax on all imported goods, any imported goods, whether it is fuel or consumables or non-consumable goods. The 2 percent should be collected by the State Revenue Authority. Not the 3 percent, it is no more applicable. So this was good news to them and they appreciated it," Ihude said.
He added, "We looked at the issue of the prices and said since the government has been supporting traders, the central bank has been releasing foreign currencies weekly to the amount of 8 million US dollars. This has helped the dollar to drop down up to the level of last week to 370. So prices of goods indeed have dropped also but not up to the level that we expected by at least 40 percent. We urged them and they have agreed to continue reducing prices."
The Ugandan business community chairperson, Sansa Moses German, disclosed that there is a reduction in the prices of food items but called on the trade ministry to set up a committee to assess the market to monitor the prices.
"My request to you as the director is to get a group of people who can move around to assess prices. If you go to onions, onion was six hundred, it is now four hundred per kilogram," Sansa said.
Tom Abdelbergi, another trader in the Torit market, called for peace and security for the market to continue stabilizing.
"Previously it was because the dollar was high but now it has come down and prices have dropped. We continue to hope for peace and security in Eastern Equatoria State and South Sudan," he said.
Today in Torit town, 1 US dollar is being sold at 380 SSP. According to a market survey, maize flour that was sold at 11,000 SSP now costs 9,000 SSP, and sugar has gone down from 17,000 SSP to 14,000 SSP.