Government slams Troika statement blaming it for ceasefire violation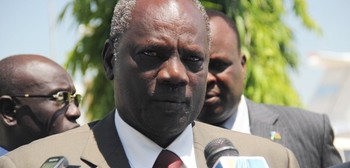 File photo: Michael Makuei
South Sudan's government has criticized a recent joint statement by the United States, Britain, and Norway warning warring sides in the conflict against violating the signed cessation of hostilities agreement, describing the statement as "unfortunate."
"The statement is unfortunate because if there is any violation, it cannot be blamed on both sides. It is unfortunate because the Troika and the United Nations always blame both sides," Michael Makuei, South Sudan Information Minister, told Radio Tamazuj today.
Makuei, who is also the government spokesman, said the international community should rethink its position to blame both sides of the ongoing civil war if there is any fighting. "You cannot say the two sides have violated the agreement. If there is any violation, there is one side fighting in self-defense," he said.
Makuei, who was sanctioned by the United States last year, pointed out that the Ceasefire and Transitional Security Arrangements Monitoring Mechanism (CTSAMM) is the only body mandated to monitor the signed ceasefire agreement in South Sudan.
South Sudan has been mired in conflict between government and rebel forces since December 2013. The warring parties signed a cessation of hostilities agreement in December last year as the latest attempt to end the ongoing conflict that has now entered its fourth year.