Government says will not sign bad peace deal to meet deadline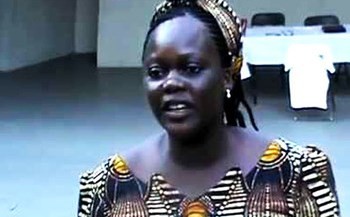 File photo: Lily Albino Akol Akol
South Sudan's government said it will only sign a peace deal with rebels if a satisfactory accord has been reached and will not sign what it termed as a "bad peace".
"Negotiation is a process and peace always is expensive. When you see some articles are difficult or have not yet been resolved, it is not because the government wants to give the opposition or the mediators hard time. The government is concerned about bringing a good peace," Lily Albino Akol Akol, Deputy Minister of Information, said on Wednesday.
The government official said that they will not sign a bad deal to meet a deadline, saying they want a stable and lasting peace agreement in South Sudan. "We want a peace agreement that is going to last that's why you see delays sometimes in agreeing on some of the articles," she said.
The deputy minister further said the recent talks in the Ethiopian capital Addis Ababa have shown signs of progress, pointing out that negotiators have reached partial agreements on several articles.
For his part, the country's minister of information Michael Makuei Lueth said peace negotiation is not a "football game", but rather a process.
"We are not talking of a tournament, which to others we were going for a football games for 90 minutes and the game would be over," Makuei on Wednesday.
"Playing for 90 minutes is an event but we didn't go for that event. We were going for a process and that process has started and it will continue until we reach the end," he added.