Government says warring parties' positions 'not far apart'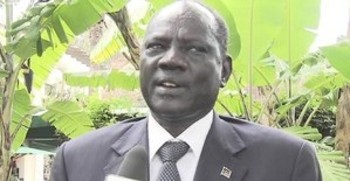 Photo: Michael Makuei
South Sudan government said different positions of warring parties at the recent peace talks were not far part, pointing out that the IGAD peace proposal managed to bridge the gap.
The Intergovernmental Authority on Development (IGAD) has recently unveiled a new peace plan tilted 'Bridging Proposal' for consideration by the warring parties in an effort to bridge the gap on outstanding issues.
"That Bridge Proposal actually bridged the gap between the various positions of the parties," Michael Makuei, South Sudan minister of information said in Juba on Thursday.
"The IGAD decided to call off the session to study the positions which were not far from one another," he added.
Makuei, who is also the government spokesman, expressed optimism about peace in South Sudan. "We are optimistic that the in next phase definitely we are going to sign a good peace deal," he said.
But the opposition groups in South rejected the proposed peace deal saying the proposal from the East African development bloc, IGAD, does not address the root causes of the conflict. The groups also argue it gives the current government, led by President Salva Kiir, far more positions in a future transitional government.