Government says targeted sanctions "politically motivated"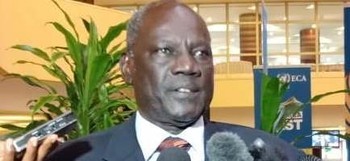 Photo: Information minister Michael Makuei briefs reporters at the peace talks in Addis Ababa on May 20, 2018.
South Sudan's government on Wednesday said international sanctions against its senior officials are "politically motivated."
UN Security Council is due to vote on Thursday to impose sanctions on Defense Minister Kuol Manyang, former army chief Paul Malong, Minister of Information Michael Makuei, deputy army chief for logistics Malek Reuben, cabinet affairs minister, Martin Elia Lomuro, and opposition governor, Koang Rambang.
The proposed measures would freeze the assets and ban travel for the six officials on both sides of the conflict for obstructing peace efforts in South Sudan.
"The charges leveled against us are not substantiated… But of course whatever decision is taken in the Security Council is not based on anything other than political. So these are political decisions that are usually taken in order to address a particular situation," said Michael Makuei Lueth, Information Minister of South Sudan.
Makuei, who is also the government spokesman, said his government will respond to the proposed UN sanctions against South Sudan officials.
Makuei accused the UN Mission in South Sudan of being behind the plan for UN sanctions against government officials in Juba." It is UNMISS that sends its report," he said.