Government says ready for peace revitalization forum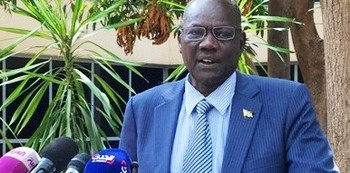 File photo: information minister Michael Makuei
South Sudan's government said on Wednesday it was ready for the revitalization forum initiated by the East African regional bloc (IGAD), which mediated the 2015 peace deal.
"The government ... is ready for the revitalization process because the foreign ministers of IGAD will sit first and set the agenda before the summit. The forum will be held after the two meetings," Michael Makuei, South Sudan's minister of information told Radio Tamazuj.
Makuei, who is also the government spokesman, reaffirmed his government's commitment to the proposed revitalization forum. "The government had accepted the revitalization process and we have been following it, but the agenda of the forum is not yet clear," he said.
Members of the Troika (Norway, United Kingdom and United States) released a statement recently saying all parties in South Sudan must end hostilities as a sign of their commitment to the High Level Revitalization Forum (HLRF), which is aimed at implementing the 2015 peace deal.
The forum, organized by the Intergovernmental Authority on Development (IGAD), is set to begin this month in Addis Ababa, Ethiopia.