Government says optimistic about peace deal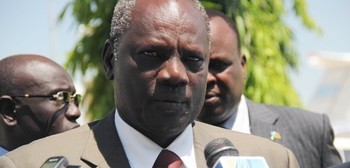 File photo: Michael Makuei
South Sudan's government said that it is optimistic about achieving a peaceful settlement in the war-torn country, and promised to return to Juba with peace.
In a statement to the press in Juba on Sunday, Information Minister Michael Makuei said the government delegation will negotiate with an open heart in the peace revitalization in the Ethiopian capital, Addis Ababa.
"The government is going to negotiate with an open mind and with an open heart with the hope of coming back to the people of South Sudan with the final peace," he said.
"We are optimistic that peace will be achieved this time and no going back to war again," he added.
The second phase of peace talks have resumed in Addis Ababa Ethiopia today morning.
The forum is expected to bring together South Sudan warring parties which signed the cessation of hostilities agreement in December last year.