Government says it thwarted 3 attempted 'coups' by Malong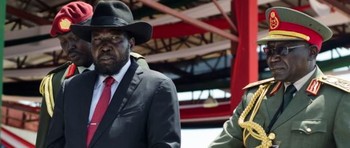 File photo: President Kiir, center, accompanied by Paul Malong, right, attends an Independence Day ceremony in Juba, July 9, 2015.
South Sudan's government says it had foiled three attempted coups in the youngest nation and blames it on former army chief turned rebel leader, Paul Malong.
South Sudan's presidential spokesman Ateny Wek Ateny said on Tuesday that the attempts were planned by forces loyal to the former military chief who was sacked in May 2017.
"Malong staged almost three attempted coups against the president, even at some points he wanted the president to be sent home to Warrap so that he takes over as the president," he said.
"It was thwarted simply because of the intelligence," he added.
The government further said the country's former army chief plotted coups to obstruct the 2015 peace accord, pointing out that Malong had been a vocal proponent of the government's war efforts.
Malong's spokesperson Sunday de John could not immediately be reached for comment.
General Paul Malong, a former ally of President Salva Kiir, on Monday formed a new rebel movement to topple the current government.
He accused Kiir and those who support him of massive corruption and leading the world's youngest nation to bankruptcy.