Government reveals a $5 million failed plot to kill Machar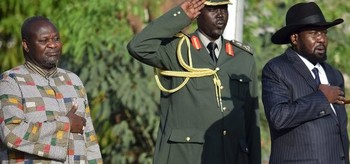 South Sudan's government revealed that it had paid former army chief turned rebel commander Paul Malong $5 million as part of a plot to pursue the country's opposition leader Riek Machar in the bush following fighting in July 2016.
South Sudan's presidential spokesman Ateny Wek Ateny told reporters in Juba today that the failed plot to pursue and kill the former first vice president turned rebel leader Riek Machar originated with Gen. Paul Malong.
"The Central Bank of South Sudan was opened at night and $5 million was released for military operations against Riek Machar," Ateny said.
The government blamed Paul Malong for failing to kill the main opposition leader after receiving as much as $5 million for military operations after rebels forces had been driven out of the capital Juba.
"Malong took the money but Riek Machar was not killed. He [Malong] failed to pursue Machar and Riek Machar did not face any difficulty. But he [Malong] took the money," Ateny said, while accusing the former military chief of massive corruption, barely one day after he officially declared himself a rebel.
The plot if successful would have eliminated President Kiir's archrival Riek Machar in the bush and would have frustrated the SPLM/A-IO rebel movement.
South Sudan's rebel chief, Riek Machar, had revealed in his interviews with various media outlets in South Africa that Kiir's forces had used different airplanes to locate and kill him as they pursued him for more than a month from Juba to the Congolese border.
The UN peacekeeping mission in Congo extracted Riek Machar, his wife and 10 others from an area close to the border with South Sudan after surviving in the bush in Western Equatoria for nearly a month.
Reports indicated that Machar suffered from swollen legs after weeks of walking in the bush amid attacks by government troops.