Government rejects declaration signing over punitive provision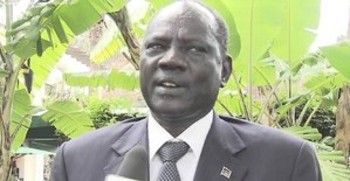 File photo: Michael Makuei
South Sudanese opposition groups at the ongoing peace talks in Addis Ababa have signed an agreement on declaration of the principles for the peace negotiations today, but the government team rejected it, citing discontent about punitive provisions in the document.
Article 28 in the document says punitive actions including those decided by the IGAD heads of state and government in November 2014 should be taken against peace spoilers.
"The government for its part decided not to sign the document, and of course that document to be signed included article 28," Michael Makuei, Minister of Information, said in a press statement in Addis Ababa.
He pointed out that the signing of the agreement on declaration of the principles was optional. " Since the signing is set to be optional, there is no reason for us to sign such a document in which there is a provision which incriminates and which is irrelevant," he said.
The government spokesman requested the East African regional bloc IGAD to either delete the provision or remove the government's name from the list of the signatories.
Makuei confirmed that they had agreed on the judiciary and establishment of constitutional court, pointing out that the negotiations will resume on Saturday.
For its part, the opposition group led by rebel leader Riek Machar congratulated its supporters for the signing of the agreement on declaration of principles in Addis Ababa this afternoon.
In a statement issued by Mabior Garang, the group reiterated its commitment to pace through a negotiated settlement.