Government, opposition urged to compromise on peace proposal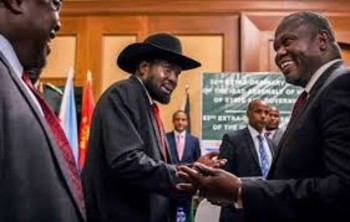 South Sudanese activist and director of the Community Empowerment for Progress Organization (CEPO) Edmund Yakani has called on the warring parties to compromise on the proposed power sharing.
Sudanese army spokesman Ahmed Khalifa al-Shami announced on Thursday that the South Sudan parties agreed on the outstanding issues on security arrangements.
In a statement to Radio Tamazuj from Khartoum where he attends the peace talks, Yakani said the nation was going through turbulent time and there is need for the parties to sign a peace agreement.
"Signing a peace deal on 9 July in Khartoum during our independence will be a great event for South Sudanese," he said.
The leading civil society activist reminded the parties to respect the signed ceasefire as the peace talks progress in Khartoum.
The parties reviewed the proposed power sharing and security arrangements and summited their comments to the mediation team in Khartoum on Thursday.