Government, opposition trade accusations over ceasefire violation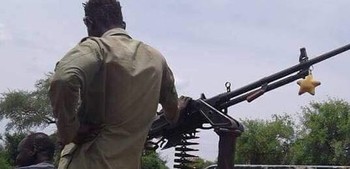 South Sudan's latest ceasefire has been violated hours after it began with the government and opposition trading blame in which each side attempted to portray the other as the cause of the military attacks.
South Sudan's President Salva Kiir and opposition leader Riek Machar declared a permanent ceasefire that took effect on Saturday.
But this morning rebel deputy spokesperson Lam Paul Gabriel said government forces launched an attack on their base in Mboro of Wau State around 7am.
"The aggressors came from Wau and Aweil on 14 Land Cruiser vehicles, 3 Ural trucks and 4 APCs. This happened just hours after the ceasefire took effect," Lam said, calling on CTSAMM and UNMISS to investigate the incident.
SPLA spokesperson Lul Ruai Koang said the opposition attacked them in various areas instead.
He explained that they were attacked in Southern Liech, Northern Upper Nile and Northern Upper Nile.