JUBA/NAIROBI -
5 Mar 2021
Government, opposition faction to resume talks in Kenya next week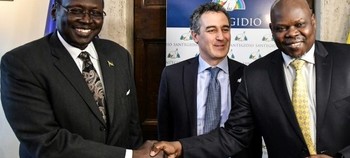 Members of South Sudan's government and a faction of holdout opposition groups will resume talks in Kenya next week, seeking to reach an agreement to ease a political crisis in the country.
The talks, facilitated by the Rome-based Sant'Egidio Community, failed to resume last month after some government delegates tested positive for Covid-19 in Juba.
Dr. Barnaba Marial Benjamin, a spokesman for the government delegation to the peace talks, confirmed to Radio Tamazuj on Friday that the talks with a faction of the opposition alliance led by General Paul Malong and Pagan Amum will resume on March 8, 2021.
He revealed that the new round of talks with the holdout opposition faction will focus on the root causes of the crisis in South Sudan, saying he is optimistic about the talks that will start again next week in Naivasha, Kenya after a long break.
"We have the agenda for the new round of talks," said Dr. Barnaba Marial. "Paul Malong and Pagan Amum said we should discuss the root causes of the conflict, so we will listen to them. The talks will take place from the 8th to the 12th of March."
In January 2020, both sides signed a peace declaration in which they recommitted to the cessation of hostilities and called for uninterrupted humanitarian access to the local and international organizations.
General Malong and Pagan Amum are both leading a faction of the rebel umbrella South Sudan Opposition Movements Alliance (SSOMA).
According to Dr. Marial, peace negotiations will continue under the auspices of the Community of Sant'Egidio in neighbouring Kenya. He pointed out that the talks will involve various regional and international partners.
Dr. Marial, a former foreign minister, said the outstanding issues are expected to be resolved during direct negotiations between both sides. "We will also discuss the root cause of the conflict with the other faction led by General Thomas Cirillo after our meeting with the group led by Gen. Malong and Pagan," Dr. Marial said.
Nyamach Nyang Chuol, a spokesperson for Malong's SSUF group, confirmed that the talks with the transitional government will resume in neighbouring Kenya on March 8.
"The talks will begin from the 8th to the 12th of March, so it will last for five days. A delegation representing the Revitalized Transitional Government of National Unity (RTGoNU) will come to Kenya," she said.