Government names five-member team to attend peace consultations in Addis Ababa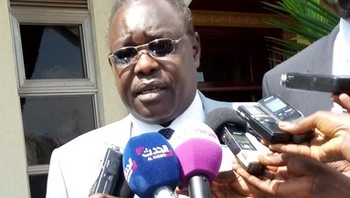 File photo: Martin Elia Lomuro
The South Sudanese govenrment has named a five-member team to attend the consultation process on the South Sudanese peace talks in Addis Ababa today.
The unity govenrment, according to docunment seen by Radio Tamazuj, has appointed a five-member delegation to attend the consutlation process.
The key memebers are:
Martin Elia Lomuro
Michael Makuei Lueth
Awut Deng Achuil
Richard K. Mula
Dr. Martha Martin
The Inter-governmental Authority on Development on Sunday invited key representatives of each of the South Sudan parties to go to Ethiopia for consultations.
The East African regional bloc decided to intensify its engagement with the parties with a view to identifying possible options for unlocking the stalemate during the next peace talks.