Government insists on meeting with Machar in Juba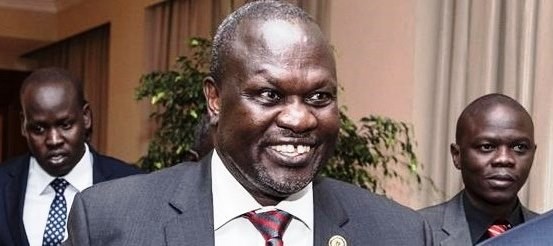 Photo: opposition leader Riek Machar
South Sudan's government insists that meetings between President Salva Kiir and opposition leader Riek Machar should take place in Juba.
In a letter dated July 8 and sent to President Kiir's security adviser, Tut Gatluak, Machar said he was ready to discuss the challenges of the peace deal with the president in Juba if certain security assurances were made.
Information Minister Michael Makuei said Kiir and Machar hadn't agreed to meet in Addis Ababa, Ethiopia. "They have not agreed to meet in Addis. All the leaders of the other parties are here in Juba, and if Riek Machar wants to meet the president at any time here, he is free to come," Makuei said.
Makuei, who is also the government's spokesperson, said Machar can also be accompanied to Juba by any regional leader if he has security concerns.
"He [Machar] has the right to be accompanied by any of the neighboring countries with whom he is staying. He can be accompanied to attend the meeting, but we would prefer that he comes to stay like the rest of his colleagues here," Makuei said on Friday.
For his part, the opposition SPLM-IO's deputy spokesman Manawa Peter Gatkuoth told Radio Tamazuj that their leader is ready to meet President Kiir in Addis Ababa.
"After the two leaders meet first in Addis Ababa, then we will decide if there will be another meeting in Juba or elsewhere, but the first meeting should take place in Addis Ababa," Manawa stressed.
South Sudan's rival leaders extended the formation of the unity government to November in order to implement key provisions such as creating a unified army and determining the number of states
Machar, who under the terms of the peace agreement is to be reinstated as first vice president, is currently in Ethiopia but cannot travel to the other IGAD countries without permission.
He fled into exile in 2016 after heavy clashes in Juba.