Government, rebel group sign declaration of peace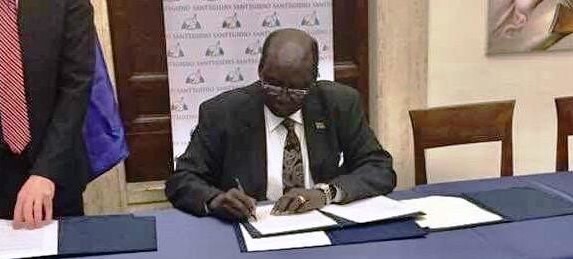 File photo: Presidential envoy Barnaba Marial signs declaration of peace with SSOMA in Rome on 12 January, 2020.
South Sudan's government and holdout opposition groups on Sunday signed a declaration of principles, in a critical step towards resolving years of conflict.
The document, dubbed the Rome declaration on the peace process in South Sudan, was signed under the auspices of the community of 'Egidio, a lay Catholic association dedicated to social service provision.
The government signed the document with South Sudan Opposition Movements Alliance (SSOMA), a coalition of opposition groups that did not sign the 2018 peace agreement.
The parties agreed to foster political dialogue in order to facilitate further reconciliation and stabilization by addressing the root causes of the conflict in South Sudan.
Both sides said the current conflict in South Sudan requires a comprehensive political engagement in order to achieve inclusivity and sustainable peace with the non-signatories to the revitalised peace deal.
The parties agreed that the dialogue will continue under the auspices of Sant'Egidio in consultation with IGAD and with the support of the international community.
The parties recommitted themselves to the cessation of hostilities agreement signed in December 2017 to void further armed confrontation. The government and the holdout opposition groups reaffirmed readiness to allow uninterrupted humanitarian access to alleviate the suffering of the population.
Sant'Egidio hosted the meeting in Rome, Italy from Saturday to Sunday.
The declaration contains names of presidential envoy Barnaba Marial Benjamin, member of the leadership council of SSOMA Gen. Thomas Cirillo, member of the leadership council of SSOMA Gen. Paul Malong, member of the leadership council of SSOMA Pagan Amum, among other opposition officials.
The document was witnessed by representatives of Sudan People's Liberation Movement-In-Opposition (SPLM-IO) and National Democratic Movement (NDM). The Intergovernmental Authority on Developmental (IGAD), a regional bloc for East Africa, witnessed the declaration of peace as observer.