Government happy with Khartoum's mediation style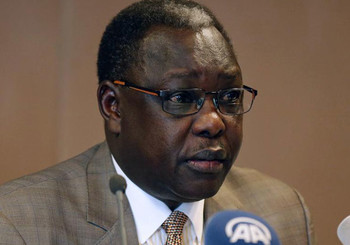 South Sudan's cabinet affairs minister Martin Elia Lomuro addresses a news conference on the South Sudan negotiations in Addis Ababa, Ethiopia June 22, 2018. (Reuters)
South Sudan government has expressed its "happiness" with ongoing efforts by Khartoum to end the conflict in the youngest nation.
The statement came in statements made by cabinet minister Martin Elia Lomuro and information minister Michael Makuei in Khartoum today.
"There is a great hope that the style the Khartoum mediation has adopted is the style we have been arguing for IGAD to adopt. It is not a classroom type discussion, it is a real negotiation," said Martin Elia Lomuro, South Sudan's Minister of Cabinet Affair.
Martin further said they concentrated on the structure and composition of the office of the president today. "We also talked about the power sharing ratios, the parliament and the states in terms of power sharing. The government has presented its position and justification so that the mediation has clarity," he said.
Meanwhile, Government Information Minister Michael Makuei said they are happy with the mediation style of Sudan to break a deadlock on the outstanding issues.
"I think the approach is correct. We are in the right path and will be in a position to make long strides so that we go back to our people with peace," he said.