Government forces, rebels clash in Lol State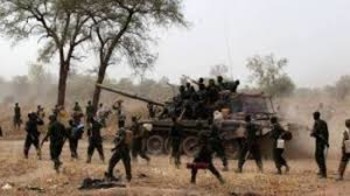 South Sudan's army clashed with rebels loyal to former first vice president Riek Machar in Lol State on Wednesday.
Both sides accused the other of starting the fighting around the town of Deim Zubeir.
The government and rebel groups signed a ceasefire in December last year in an attempt to end the ongoing civil war.
Omar Isahaq, a spokesman for the government side in Lol State, told Radio Tamazuj on Friday that their base in the town of Deim Zubeir came under attack by rebel forces loyal to Riek Machar, but they were repulsed.
He claimed that the army had inflicted heavy losses on the rebels during fighting. Omar said they killed 15 rebel forces.
Rebel-appointed governor of Raja State Salah Mumiji Mamiri said the army attacked rebel forces near Deim Zubeir on Wednesday.
He accused the government of violating the cessation of hostilities agreement. The opposition governor said 5 soldiers were killed from their side during fighting in the area.