Govt expresses reservation on selection of ministries: opposition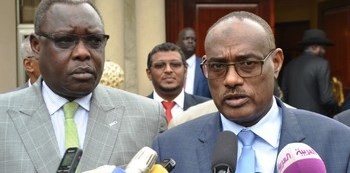 South Sudan's government has expressed new reservations on the mode of dividing up the ministries for the country's proposed power-sharing government, a senior opposition official said.
The 2015 peace deal stipulates that the selection of ministries and appointment procedure for ministers and deputy ministers shall be on a rotational basis.
"On Wednesday, the government expressed a new reservation on the selection of the ministries in the upcoming transitional government. So this is one of the disagreement points now," General Hussein Abdelbagi, a senior member of the South Sudan Patriotic Movement (SSPM), told Radio Tamazuj today.
He further said the government negotiating team rejected the selection of the proposed ministries on a rotational basis. "The government said the parties need to agree on how to divide up the ministries without following the rotational mode," he said.
"It came as a surprise to us because when the government initialed the peace agreement, it did not express any reservation. It is the opposition groups that listed some reservations during the initialing of the peace agreement," he added.
Government officials at the peace talks could not immediately reached for comment.
In January 2016, South Sudan's government, SPLM-IO rebels, former detainees and other political parties chose their ministerial portfolios in Juba without adhering to the rotational mode stipulated in the agreement.