Government delegation to travel to Addis Ababa talks on Sunday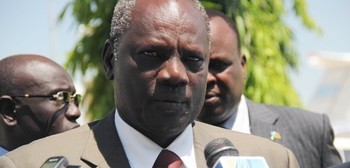 File photo: Michael Makuei
The South Sudanese government will dispatched a delegation to the peace talks in Addis Ababa, again headed by Cabinet Affairs Minister Martin Elia Lomuro. In December last year the warring parties signed a shaky cessation of hostilities agreement.
IGAD, the East African bloc of nations facilitating the second phase of the revitalization process, has backing of the 'Troika' governments of the US, Norway and the United Kingdom.
"The government delegation will be leaving next tomorrow on Sunday to attend the meeting in Addis Ababa on 5 February," said government information minister Michael Makuei.
"The delegation is fully prepared and we are going to discuss issues to do with the revitalization process and especially Chapter One of the agreement which talks about governance," he added.
Makuei pointed out that the parties will also discuss issues pertaining to security and timeframes for elections.