TORIT/FASHODA -
27 Nov 2018
Govt, opposition forces meet in Torit and Fashoda and agree to work together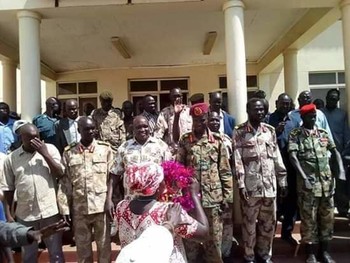 Torit State Governor meets SPLA-IO military Cadres over the weekend
Government authorities and opposition forces in South Sudan's Torit and Fashoda States met over the weekend and resolved to cooperate in the implementation of the peace agreement and allow free movement of civilians in the states.
Torit state authorities met top commanders of the opposition SPLA-IO allied to Riek Machar for the first time since violence broke out across the country in 2016 on Sunday.
During the meeting, Torit State Governor Tobiolo Alberio Oromo said it is time to unite as people of South Sudan and focus on development and the protection of the civilian population.
"The fighting that took us abruptly nobody had known that they will go to the bush but this fighting confused us until we realized we became enemies. Now after realizing we are not enemies, let us unite ourselves like the past so that we carry development to our people and protection to our people," he said.
South Sudan People's Defense Forces Major General Victor Odong of Division 7 sector commander eastern Equatoria called on the warring forces to forgive and embrace each other saying they should all respect and stay in their respective cantonment sites until directed otherwise.
"After this, we don't want anybody to go to ambush people on road. Anybody who moves on the road today should go without any problem whether Ikotos or Lafon, Kapoeta," he added.
Major General Paul Oyyo Galerio who led the SPLA-IO team passed a message of condolences to all those who lost their loved ones during the conflict, saying they are committed to the peace agreement.
Meanwhile, in Fashoda government authorities and opposition forces in a joint meeting on Saturday agreed to open the road between Many and Akurwa Counties.
Akurwa County Commissioner Wadakona Hadia Kak told Radio Tamazuj on Saturday that they feuding sides decided to enhance security and allow the free movement of citizens.
For his part, opposition-controlled Many County commissioner Zacharia Luany said they are committed to the resolutions of the meeting including allowing government troops to access their territory.