Gov't not telling the truth about Malong's house arrest in Juba: wife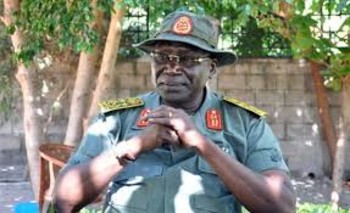 File photo: General Paul Malong Awan
Lucy Ayak, the wife of former army chief Gen. Paul Malong has criticized the South Sudanese government for saying her husband was not placed under house arrest in the capital Juba.
Kiir's spokesman Ateny Wek Ateny had denied reports that Paul Malong Awan, former chief of general staff of the SPLA army was arrested in Juba.
"The government does not want to tell the truth. Malong is currently under house arrest in Juba. He is not allowed to go outside Juba, that's why is wrote a petition because I cannot meet the president," Ayak said in an interview with Radio Tamazuj today.
Ayak, who is now in Nairobi, said the former army chief is still waiting for the government to release him from house arrest. "Malong is now in critical condition, so he must be allowed to travel for treatment. As members of the family, we are not allowed to take him for medical treatment," she said.
Ayak denied reports that her husband harbours any ill-intentions towards Kiir's government and urged the president to allow the general received medical care.
"Malong has been taking medicines without medical check-ups. We are really worried about his health condition," said Ayak.
Paul Malong left Juba shortly after being removed by Kiir in May but returned saying he had been asked by the authorities and insisted that he had no any intention of rebelling.
Malong, long regarded as a staunch supporter of President Kiir, was replaced by General James Ajongo Mawut. Foreign diplomats repeatedly accused Malong of undermining the 2015 peace accord.