Gogrial West murder suspect hearing postponed indefinitely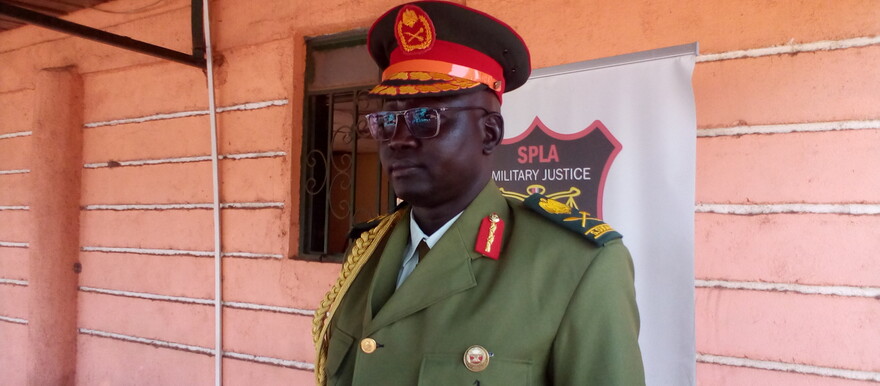 Maj. Gen. Lul Ruai Koang, spokesman of the South Sudan People's Defense Forces (SSPDF) speaking to reporters in Juba on Monday 23 January 2023. [Photo: Radio Tamazuj]
The hearing of a prime suspect in the murder of three Syrian nationals and a South Sudanese man earlier this month in Akon village of Warrap State has been postponed until further notice.  
Private Yak Garang Yak, a member of the Tiger Division, is accused of shooting the four men while they were building a house of a senior government official in Akon village on January 7th, 2023. 
Maj. Gen. Lul Ruai Koang, the official spokesperson of the South Sudan People's Defense Forces (SSPDF), told Radio Tamazuj on Monday that the Private Garang appeared before a court martial in Giada on Monday for the first hearing. 
He, however, said the court adjourned the session after the defense team raised legal concerns. 
"They said when a general court martial is formed it is presided over by a president whereas an investigation committee is presided over by a chairperson. So, there was a mix-up. It read as a general court martial but ended being referred to as an investigation committee, so there was a problem of wording and harmonization. Secondly, they said there was a conflict of interest. One member of the general court-martial is doubling as an investigator."
The defense team also demanded, according to Lul, that the committee be formed by President Salva Kiir and not the Chief of Defense Forces.
"The session was postponed for further consultations, and the court will convene as soon as the consultations are over," Lul added.  
The general court-martial comprises Maj. Gen Majok Michael as chairman, Brig Gen Alex Makelele Nyijok as vice chairman, Col. Yanga Moses Yohana Lubang as secretary, and David Awad and Major Paul Uman Lawrence as members.