Gogrial governor urges commissioners to prioritize security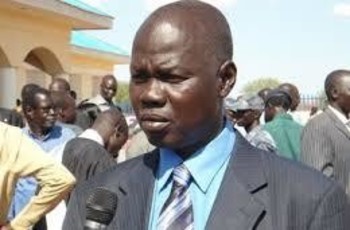 Gogrial State governor Victor Atem Atem, has called on newly appointed commissioners to maintain high levels of security amid recent rising cases of killings across the counties.
Atem who was addressing the swearing in ceremony of 7 newly appointed county commissioners on Thursday in the state capital Kuacjok condemned cases of killings of civilians in separate incidents and locations.
"It was unacceptable the other day when a young boy was killed on the way back from the market of Akon. There were many people around and the culprit was not caught. Does it show that your people do not trust you? Do you want to tell me that your people are not cooperating with you? It is unacceptable!" the governor added.
He called on county commissioners to ensure that criminals are traced, apprehended and subjected to the law accordingly.
"To be sincere and honest with you, I don't want you people to give me reports of unknown gunmen, give me reports of the known person and he ran to this direction and you have to follow him, bring to the law, bring to the book," he stressed.

The governor urged the commissioners to work for the benefit of all communities in their counties.