Give peace a chance, Peter Gatdet urges South Sudanese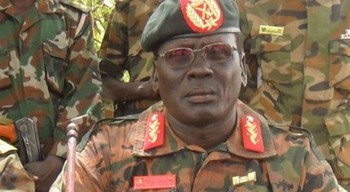 File photo: Peter Gatdet Yak
A South Sudanese rebel leader has said the country can only record meaningful progress when the people live in peace and harmony.
"Peace will benefit the people of South Sudan, that's why we signed the ceasefire. The agreement will give parties a chance to negotiate in a peaceful environment," Peter Gatdet Yak, who leads a group calling itself South Sudan United Movement, told Radio Tamazuj today.
Gatdet urged all warring parties to play their role in maintaining peace and harmony in the country. "Let's give peace a change. We shouldn't be in a hurry to fight," he said.
Gatdet, a rebel commander on both a U.S. Treasury Department sanctions list and a U.N. blacklist for his role in the conflict, urged all rebel groups to organize their forces and order them to cease hostilities across the country.
"We know that it is difficult to stop fighting just one day after the ceasefire agreement. The problem now is that armed groups are scattered and areas under their control remain unclear," he said.
The rebel leader said that he has ordered his troops in Western Nuer areas to cease hostilities. "My forces are now in the northern part of Bentiu. We are not in Bentiu town because it is under the control of the government," he said.
General Gatdet expressed optimism that the revitalization forum led by the East African regional bloc IGAD will bring about peace in South Sudan. "I am hopeful that peace will come this time round. Peace is for our people in South Sudan. We want all our leaders to work for peace and unity," he said.