General Stephen Buay flown to Juba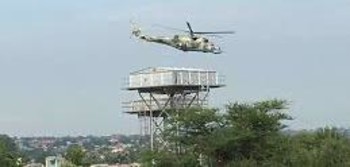 The former commander of the SPLA's fifth infantry division in Wau, captured during fighting in Mayom on Thursday, was flown to the capital Juba.
Gen. Stephen Buay Rolnyang, who was captured by Special Forces commanded by Gen. Mathew Puljang Top in Mayom, was accused of rebelling against the government on Thursday morning.
Army spokesman Lul Ruai Koang told Radio Tamazuj that the captured military commander has been flown to the capital Juba today. He explained that Gen. Buay decided to rebel against the government after being redeployed to the army headquarters in Juba.
Lul said one soldier was killed from General Buay's side during fighting in Mayom on Thursday." About 47 soldiers loyal to Gen. Buay were captured during fighting," he said.
Northern Liech's information minister Lam Tungwar Kweiguong confirmed General Buay Rolnyang had been flown to Juba." The military will handle the case of Gen. Buay Rolnyang because we have done our part," he said.
"Citizens are fine and the security situation is calm. The issue has not involved the clans because it was a military issue," he explained.