General Hoth Mai due in court over corruption claims in Australia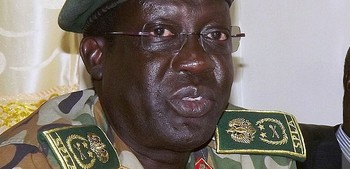 File photo: General James Hoth Mai
A former South Sudanese army chief is due to appear in court on 27 February in Australia after being accused of stealing money from his country's coffers in a report by an investigations team called The Sentry.
Police authorities in Australia launched investigations into a $1.5 million mansion owned by the family of former army chief James Hoth Mai in Narre Warren, Melbourne under the Proceeds of Crime Act.
The Sentry report launched in 2016 alleges that General Mai paid $1.5 million cash for a mansion in Melbourne's southeast in 2014. James Hoth Mai served as the SPLA chief of general staff from May 2009 until April 2014.
A relative of James Hoth who is currently living in Australia told Radio Tamazuj today that the Australian Federal Police have launched investigations into the $1.5 million mansion owned by James Hoth in Australia.
"The police want to know how did Hoth get the money and where did he get the money from. So, the family was summoned to appear before the court," he said.
"It is true that the mansion was purchased for $1.5 in 2014," he added.
The relative denied reports that the Australian Federal Police have already seized Hoth's luxury mansion in Narre Warren. "Hoth is now at home, he came to Australia two weeks ago. The family will appear before the court on 27 this month," he said.
The Australian Federal police suspect the top South Sudanese army general, whose salary was around AUD$57,000, purchased the mansion with the proceeds of corruption.
But the relative claimed the country's former army chief owns many private businesses in the South Sudanese capital Juba.