General Dau Aturjong vows zero tolerance against army exploitation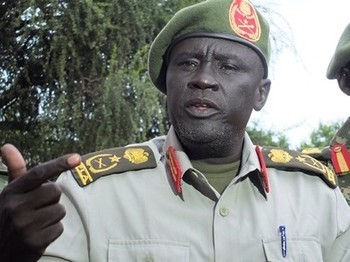 File photo: General Dau Aturjong
The commander of the government forces in Aweil region on Thursday vowed zero tolerance against anyone attempting to use the army for personal gains through exploitation or intimidation.
General Dau Aturjong, commander of the SPLA's 3rd infantry division based in Wunyiik, Aweil East, told Radio Tamazuj he would not entertain the exploitation of the row between the government and the former army chief of staff Paul Malong to settle personal differences.
"The mandate of the army everywhere is to provide protection to lives and properties, guard the constitution and defend the country, its people against internal and external aggression," he said.
"As the commanding officer, I will ensure the army is not exploited by anyone, whether members of the army or other people to settle political or whatever difference in the name of the army or misinterpret whatever differences to target a family member of a political opponent using the army. That will not happen, not here but everywhere. The chief of defence forces is clear on strict rules of engagement even when there are orders to enforce law and order," Dau warned.
Dau said he had been deployed as a commanding officer in the area severally and the people can attest to his performance, citing among his achievements the establishment of Wunyiik as the division's headquarters.
He denied having any difference to settle with any political or military leader in the area.