General Agany reconciles with SSPM's leader Costello Garang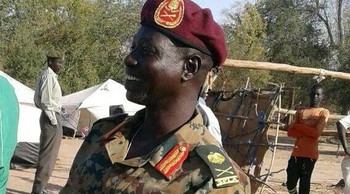 A top rebel commander of the South Sudan Patriotic Movement/Army (SSPM/A) has rejoined the main group after announcing his defection last month, a senior opposition official said.
In August, General Agany Abdel-Bagi Ayii Akol declared himself the new leader of the SSPM/A movement, ousting his leader Costello Garang Riny. Agany accused his former chairman of continuing hostility against the Juba government despite the signing of the Khartoum peace deal.
General Hussein Abdel-Bagi Akol, a senior member of the SSPM/A group led by Costello Garang, told Radio Tamazuj today that General Agany has rejoined their group after a reconciliation process in Khartoum.
"We have reconciled, so our differences are now resolved. Our leader Dr Costello will come soon to resolve some administrative issues," Hussein said.