Gen. Pagan Amum appointed spokesperson for holdout opposition group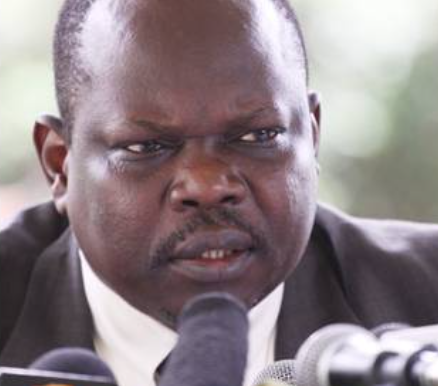 Pagan Amum. (File photo)
A new political alignment, the Non-Signatories South Sudanese Oppositions Group (NSSSOG), on Friday appointed Gen. Pagan Amum of the Real Sudan People's Liberation Movement (R-SPLM) as its spokesperson, a press release said.
Gen. Amum is a leading South Sudanese political dissident who served as the Secretary General of the SPLM party before the December 2013 crisis which morphed into a war that engulfed most of the country.
"The Non-Signatories South Sudanese Oppositions Group (NSSSOG) would like to inform the people of South Sudan, the International Community that in line with its recently issued press statement (An urgent Call to All South Sudanese Stakeholders dated 13th July), the Group met on 14 July, and appointed Hon. Pagan Amum as its Interim Spokesperson," the statement said.
"Hon. Amum is the officially authorized person to speak on behalf of the (NSSSOG) in dealing with media and the public," it added.
According to the group, the appointment of Amum does not prevent the other five leaders of the (NSSSOG) to express their views if requested to do so.
The NSSSOG also said they nominated Deng Vanang, Peter Natana, and Lual Dau to be the focal point for those political, civil society, faith-based, women, and youth organizations that are interested in joining their urgent call to rescue the country from a constitutional vacuum and total collapse.
On Wednesday, the new grouping sent out a missive titled 'An urgent call to all South Sudanese stakeholders' in which they said the Republic of South Sudan is on the verge of collapse and that President Salva Kiir plans to stealthily extend his term in office.
The new political alignment comprises the United Democratic Revolutionary Movement/Army UDRM/A, National Democratic Movement Patriotic Front (NDM-PF), National Salvation Front (NAS), South Sudan United Front/Army (SSUF/A), Sudan National Movement for Change (SSNMC), and the Real SPLM.