Gen. Dau Aturjong says SPLM/A 'hijacked' after death of Garang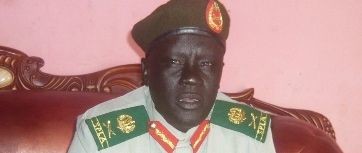 Defected SPLA Major-General Dau Aturjong, who recently joined South Sudan's armed opposition, explained that the reason for his defection was the 'hijacking' of the SPLM/A movement after the death of its founder John Garang.
Dau served as a field commander for SPLA during the second Sudanese civil war in Western and Northern Bahr al Ghazal and elsewhere, eventually attaining the rank of major-general.
In 2010 he campaigned unsuccessfully for the governorship of Northern Bahr al Ghazal against Paul Malong Awan, who has since been elevated to SPLA Chief of Staff.
He was removed from active duty in the army by presidential decree in January 2013, and placed on a list of reserve officers.
Last week the former general joined the opposition faction led by Riek Machar and claimed also to have brought with him a number of other former army officers and diaspora community leaders from his state.
In a recent interview with Sudan Tribune, the defected general said, "The revolution was hijacked after Garang's death."
Gen. Aturjong said he wanted to fight against "injustice," "marginalization" and other "ill practices."
"I thought we have liberated our people from the northern domination only to realize the revolution had been hijacked by a tyrant dictator upon the death of our leader, late Dr. John Garang de Mabior," said the defected army general.
"They killed many innocent people," the general said, referring to the country's leadership.
No talks with presidency official
Last Saturday the defected general reportedly declined to meet with the Spokesperson of the President, Ateny Wek Ateny, who hails from the same state.
He openly dismissed the possibility of talks with the government official, whom he said anyway was not coming to him in an official capacity.
"Why are they running after me now after all they have been refusing to meet me before?" said the defector.
Meanwhile, Kiir has reportedly also sought to organize a meeting of Aweil community leaders and elders in order to address grievances.
Ceasefire and interim government
South Sudan's opposition faction agreed to a ceasefire on 9 May. But the rebels are accused by the government of violations of the pact.
The rebels also agreed to continue participating in IGAD-mediated talks in Addis Ababa with the government on formation of an interim government.
Riek Machar, the leader of SPLM/A-in-Opposition, last week met with the Kenyan president and reportedly told him he would be willing to accept to stay out of the proposed interim government for the sake of peace.