Gbudue governor suspends butchers' activities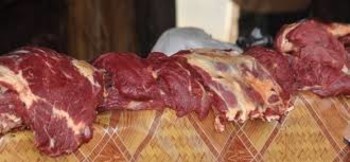 The Governor of South Sudan's Gbudue State has suspended, until further notice, all the activities of butchers.
Governor Badagbu Daniel Rimbasa, in a decree, also suspended the slaughter and selling of cow meat in Yambio municipality and Gbudue State.
"This order may be cited as state order No. 01/2019, for suspension of butchers' activities, slaughtering and selling of cow meat in Yambio municipality and Gbudue State and shall come into force upon the date of its signature," partly reads the 9 February decree.
Also suspended, until further notice, is bringing of 360 cows in Gbudue.
Last week, angry butchers beat up the Yambio municipality mayor, Judith Ruben for introducing new meat safety rules in the market.
The rules were announced at a meeting, which municipality officials, state chamber of commerce members and the butchers attended.
The governor, in the decree, ordered that three people who assaulted the mayor and acting head of legal administration be apprehended and tried before a competent court of law.
"Butchers' activities will not resume until government organizes the work," further notes the decree.
The governor's spokesperson, John Baraka said government must be given time to resolve the impasse between the state and butchers.
He, however, stressed it was wrong to assault a government official.
Meanwhile, members of the Ambororo Arab nomadic tribe working in the market and Gbudue State were ordered to leave the area within 24 hours.