Gatdet says he is the legitimate leader of opposition alliance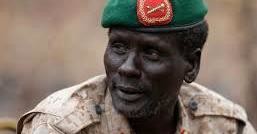 General Peter Gatdet denied reports that the opposition alliance backtracked on its decision to elect him and asserted that he remains the legitimate leader of the alliance.
Row deepened among members of the South Sudan Opposition Alliance (SSOA) after the interim leader of the umbrella Gabriel Changson rejected elections conducted on 30 November in Khartoum, where Peter Gatdet was declared the winner of the controversial election.
Gatdet, who leads a group calling itself South Sudan United Movement, has ruled out reunification with the SSOA faction led by Gabriel Changson despite a surge in demands for the two groups to unite.
"Gabriel has signed a deal with the government to divide the opposition alliance. He met with government officials in Juba and signed a deal," Gatdet said in an interview with Radio Tamazuj on Thursday.
"All members of the alliance took part in the election, so I am now the only legitimate leader of the opposition alliance," he added.
The opposition official called on the East African bloc IGAD and the international community to decide on how to channel all communication connected with SSOA and the implementation of the peace deal.
Observers expressed fears that the ongoing crisis facing the opposition alliance could affect the implementation of the peace agreement.
In September, members of the South Sudan Opposition Alliance (SSOA) signed a final peace deal with President Salva Kiir as one entity under the auspices of the Intergovernmental Authority on Development (IGAD).