IGAD invites South Sudan party representatives to attend talks in Khartoum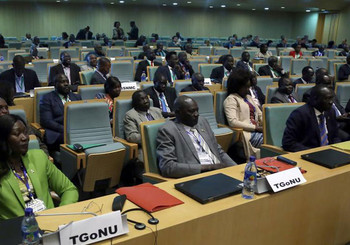 The Inter-governmental Authority on Development (IGAD) has invited representatives of each of the South Sudanese parties for peace talks in the Sudanese capital Khartoum.
IGAD, in a letter issued on Saturday, said the follow-up to the revitalization forum on bilateral issues in Khartoum will start from 29 June 29 to 10 July.
"It therefore gives me great pleasure to request your Excellency to attend this meeting," partly reads the letter signed by IGAD special envoy to South Sudan, Ismail Wais.
Civil society representatives have also been invited to participate in the talks in Khartoum.
Sudan's President was tasked by the IGAD assembly to call for face-to-face talks between South Sudan President Salva Kiir and rebel leader Riek Machar to discuss outstanding issues in the peace process in Khartoum today.
An umbrella of South Sudan's opposition political parties led by leader of the People's Liberal Party (PLP), Peter Mayen Majongdit said it welcomes the initiative by Sudan's President Omar al-Bashir to host peace talks between Salva Kiir Mayardit and Riek Machar in Khartoum.
"The PLP also wishes to thank H.E. President Bashir for encouraging both leaders to make a step toward peace and commend the Intergovernmental Authority on Development (IGAD) and other international partners for their continued efforts and support to bring lasting peace to the people of South Sudan," partly reads PLP's statement.