FVP Taban meets top-performing high school student in Juba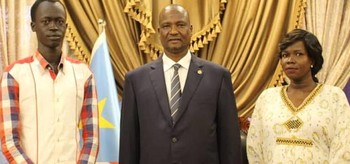 South Sudan's First Vice President Taban Deng Gai met the top-performing high school student in Juba on Wednesday.
Abel Alier Aguek, according to the 2018 secondary school examination results announced by the ministry of general education and instructions, emerged the top in the country.
He was studying at Juba Academy, a privately-owned school in the capital Juba.
The spokesman of the first vice president, Agel Ring Machar, said in a statement to state-owned media that Gai was impressed by the performance of the student.
"The First Vice President Gen. Taban Deng Gai met Abel Alier Aguek, the top-performing student in this year's Secondary School Leaving Examinations," he said.
"The First Vice President has promised to do what he can to facilitate his tertiary education. Abel Alier is interested in pursuing Medicine or Petroleum Engineering," Agel said.
Accompanied by his mother, Alier said he wants to follow in the footsteps of the former president of the high executive council, Justice Abel Alier. He further said it has been his dream to perform well in his studies.
"I want to be like Abel Alier. This has been my dream and I am now happy because I am getting there," said Alier.