WASHINGTON, D.C -
20 Apr 2021
Fugitive forged new identity as business tycoon in South Sudan: investigative report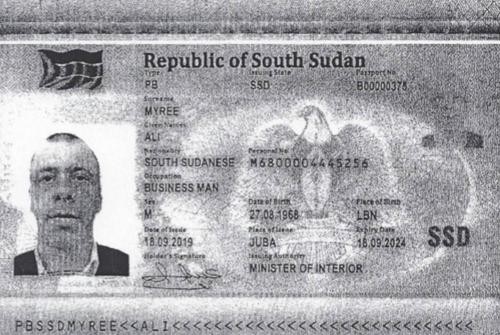 A new investigative report released Tuesday details how Lebanese businessman Ali Khalil Merhi, a one-time fugitive from Paraguay who fled criminal charges, has reemerged in South Sudan with an altered identity and a thriving business empire benefiting from corrupt connections.
The investigative report by The Sentry entitled, "The Metamorphosis of Ali Khalil Merhi: How a One-Time Fugitive Found Fortune in South Sudan," stated that when Lebanese businessman Ali Khalil Merhi fled Paraguay while awaiting his trial and crossed the border into Brazil in 2000, he escaped mounting scrutiny from authorities.
"Fresh off a stint in the notorious Tacumbu Penitentiary, Merhi faced piracy charges and suspicions of links to terror financing. At the time of Merhi's flight from Paraguay, Argentinian prosecutors also wanted to question him about a deadly terrorist attack that had left 86 dead in Buenos Aires in 1994," the report said.
It added, "Though the authorities initially investigated Merhi, the trail went cold and the investigation in Paraguay faltered. Meanwhile, Merhi moved on to new terrain. Within 20 years, he had obtained a new passport under the name Ali Khalil Myree, established more than a dozen new companies, and cultivated a new network of powerful government contacts—all in the world's newest nation."
The Sentry says it found that for more than a decade, the government of South Sudan has supported the Lebanese tycoon, granting him citizenship, lucrative contracts, and even the title of honorary consul.
"Since his flight from Paraguay, the newly minted Myree has established himself as one of the most powerful businessmen in South Sudan's capital of Juba. Along the way, he has registered more than a dozen companies, received public accolades, and partnered with politically exposed persons (PEPs­), including the daughter of the president and the daughter of the External Security Bureau chief," the report said.
According to the investigative report, Merhi's business activities in South Sudan include a mining deal with the president's daughter and a series of suspicious payments to General Malek Reuben Riak, a top official now under US, EU, and UN sanctions for corruption, torture, human rights abuses, and widespread violence and destruction.
The Sentry, an investigative and policy team co-founded by George Clooney and John Prendergast, has been actively tracking and exposing corruption, state capture, and international profiteering linked to war, mass atrocities, and human rights abuse in South Sudan.
George Clooney, Co-Founder of The Sentry, said: "In 2000, Ali Khalil Merhi fled charges of counterfeiting, accusations of links to terror financing, and requests from Argentine prosecutors to question him about a deadly 1994 bombing in Buenos Aires. Two decades later, Merhi has reemerged—with a new spelling of his name and a new business empire."
"The Sentry found that the government of South Sudan has been harbouring Merhi for more than a decade, granting him citizenship, lucrative contracts, and even the title of honorary consul. Along the way, Merhi has formed a company with President Salva Kiir's daughter and made large deposits into the bank account of a general now under UN, US, and EU sanctions for corruption and links to human rights abuses," Clooney added. "The Sentry is working with banks and governments around the world to use sanctions, asset freezes, and anti-money laundering measures against his predatory business operators and their networks."
According to the new report, The Sentry can demonstrate—through an extensive body of corporate filings, legal records, photographs, public reports, and social media posts—that Ali Khalil Merhi and Ali Khalil Myree are the same person.
John Prendergast, the other Co-Founder of The Sentry, said: "In South Sudan, the leaders of the country who have hijacked state institutions and undermined the rule of law for their own financial gain have enabled Ali Khalil Merhi to evade the consequences of his alleged misconduct for years."
"But governments, law enforcement agencies, and banks have the tools to change that. By acting swiftly, they can build meaningful accountability for individuals like Merhi and send a message that South Sudan should not be a safe haven for international criminals and other corrupt operators," Prendergast added.
Sophie Lombardo, Investigator at The Sentry, said: "In South Sudan, kleptocracy has eroded the system of governance and provided fertile ground for foreign exploitation. Wherever corruption is rampant and rule of law weak, predatory networks thrive. The case of Ali Khalil Merhi makes it clear that disrupting these networks is not only a humanitarian concern but a global security imperative."
According to J.R. Mailey, Director of Investigations at The Sentry, "While Ali Merhi's journey from a prison cell in Paraguay to the corridors of power in Juba is nothing short of remarkable, his ascendance in South Sudan shouldn't come as a surprise. This is the reality of business and politics in a state captured by a lethal criminal network."
Mailey said Merhi benefits from the same fundamental feature of South Sudanese politics as those at the helm of the country's government – a prevailing environment of impunity.
"Without accountability and consequences for violence or predatory conduct, criminals will continue to dominate both politics and business in the world's newest nation," Mailey concluded.
South Sudan's government could not immediately be reached for comment.