Fresh clashes between government and opposition around Juba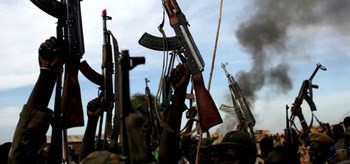 Photo: Rebel fighters hold up their rifles as they walk in front of a bushfire in a rebel-controlled territory in Upper Nile state, South Sudan Feb. 13, 2014.(Reuters)
Government and opposition forces allied to rebel leader Riek Machar clashed this morning around Luri, West of Juba.
Speaking to Radio Tamazuj, the rebel commander of Division 2A Major General Benjamin Gore Gabriel said government forces attacked and captured their defensive positions in Wululiet and Lokioro area, about 4 Kilometres from Luri.
"Our fighting started when these people (government forces) attacked two of our batches at 5 am in the morning in Wululiet and Lokioro areas until around 9.30 clashes stopped in Lokioro. Now they have captured these areas. We have only one soldier who was killed and three wounded soldiers sustained minor injuries," he said.
However, army spokesman Lul Ruai Koang speaking to Radio Tamazuj denied that his forces attacked rebel positions but confirmed that there was a brief confrontation with criminals near Luri this morning.
"What happened is that our administrative forces were going to Lui, Amadi State to take food, medicine and salaries to the forces in Lui. But they fell into an ambush between Juba and Luri by criminals who may have wanted to steal the money or food. So they attacked the convoy and they clashed and were chased into the bushes," he said.
"The clashes took about 5 to 10 minutes and we are still waiting for more details from the area," Ruai added.