Fractured SPLM factions sign unification deal in Egypt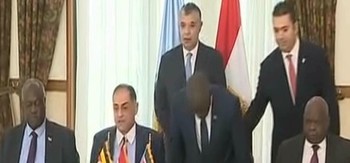 Fragmented factions of South Sudan's SPLM party signed a deal in Cairo, Egypt to set aside their differences and unify the party.
The Cairo Declaration of Unification was signed in the Egyptian General Intelligence's headquarters under the auspices of President Abdel Fatah al-Sisi and President of Uganda Yoweri Kaguta Museveni. Cairo hosted the meeting from November 13 to 16.
The Declaration, which bears names of SPLM-FDs leader Pagan Amum and South Sudan's defence minister, Kuol Manyang, is expected to expedite implementation of the 2015 Arusha agreement.
The parties also agreed that the Egyptian General Intelligence would coordinate with the parties concerned and follow up the implementation of what was agreed upon.
Kuol Manyang, the head of South Sudan's delegation praised President Sisi's efforts to reach the unification deal of the SPLM, which will in turn end the war and unite the SPLM.
He said that the civil war, which has been ongoing since 2013, has led to the displacement of millions and the severe suffering of southern Sudan's people; referring to the efforts exerted by the Intergovernmental Authority on Development (IGAD) to solve the crisis.
The head of South Sudan government's delegation vowed to put aside all differences to reestablish peace in the country.
The ruling party fractured in December 2013, leading to the ongoing civil war that has killed tens of thousands and led to the displacement of millions.