Fractured SPLM factions agree to work out reunification matrix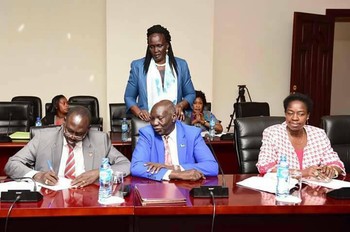 File photo
Three factions of South Sudan's SPLM party on Thursday agreed in neighbouring Uganda to set aside their differences and work out mechanisms to reunify the ruling party.
The SPLM party fractured in December 2013, leading to the ongoing civil war that has killed thousands and forced a large number of people to seek refugees in neighbouring countries.
Former Upper Nile governor Simon Kun Puoch told Radio Tamazuj on Friday that he and two other colleagues from Kiir's SPLM faction have been nominated to work together with nominees from other factions to work out a matrix to facilitate the implementation of the Arusha reunification agreement.
"Myself, Simon Kun Puoch, comrade Rebecca Joshua Okwaci and comrade Oliver Mori Benjamin were nominated by the SPLM leadership to work together with other comrades to work out the implementation modalities. Our team has started to work together since the meeting was held," said Kun.
The senior party official revealed that Majak D' Agoot, John Luk Jok and Kosti Manibe from former political detainees and Richard K. Mulla, Tigwog H. Agwet and Lubna Abdelgani from the faction of the Sudan People's Liberation Movement-In-Opposition under Taban Deng Gai formed the working group.
The objective of the working group, he explained, is to develop a matrix for the implementation of the Arusha agreement with a specific timeframe.
Kun pointed out that the working group will report to President Yoweri Kaguta Museveni who mediated the reconciliation process after one week beginning from Monday July 31.