Four Sudanese journalists arrested by security in Khartoum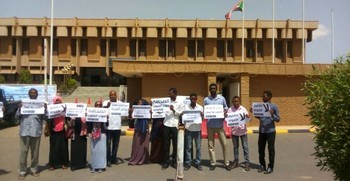 Sudanese security forces dispersed a protest in front of the parliament on Sunday morning organized by Al-Akhbar newspaper and the network of journalists, protesting against journalists being prevented from entering the parliament to cover its sessions.
Four journalists, Abdulrahman Al Ajib, Murtada Ahmad, Al-Hajj Muz from al-Akhbar and journalist Al-Nazir Ibrahim from Al-Seiha newspaper, were arrested by the security personnel.
In a statement seen by Radio Tamazuj the Sudanese journalists' network condemns the arrest and targeting of journalists.
This development came after the Sudanese parliament prevented journalists from entering the parliament to cover the meetings of the Council.