Former rebel officials support disowning Machar from leadership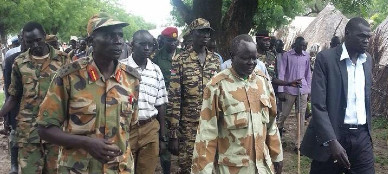 Officials from a rebel group have declared their support to a decision in which senior rebel commanders claimed to denounce and disown frontman Riek Machar from the SPLM-IO leadership.
The group, led by Peter Gatdet, former deputy chief of staff for operations in the SPLM-In Opposition and Gathoth Gatkuoth, former deputy chief of staff for logistics, announced at a press conference in the Sudanese capital to have "denounced and disowned" Machar from the leadership of the rebel movement. Both were relieved from their positions last month by Machar.
It was not clear how many officials attended this conference. Some unverified media reports claim that Gabriel Tanginye, Chuol Gaka, Gathoth Gatkuoth, Malith Gatluak and Gatwec Puoc were among those who have declared their intention to defect.
Five politicians issued a separate statement announcing their support to the commanders for dismissing Machar.
Former ministers of Youth, Culture and Sports, Gabriel Changson Chang, Timothy Tot Chol, Thomas Thoan Teny, Michael Mariew Dhuor and Gabriel Yoal Dok were among those who issued a statement denouncing the ways in which Machar has managed the leadership and the opposition movement.
"We strongly support and stand behind the bold and brave decision taken against Dr. Riek Machar by our senior officers and men of the SPLM/A-IO and appeal and urge all the officers and men of the SPLM/A-IO to rally behind their senior officers and comrades in arms," the statement reads, which is accessible below.
Jikany Nuer community disowns rebel defectors
In another press statement on Wednesday, the Jikany section of the ethnic Nuer community in South Sudan denounced the senior commanders led by Gatdet who broke away from the SPLM-IO on Tuesday, following their discontent with Machar's leadership.
In the statement, the Jikany community in the United Nations protection site in Juba declared they were 'not surprised by the development, because Gathoth Gatkuoth and Changson Lew defected from Machar's Movement in 1997 […] when he defected from South Sudan Independent Movement (SSIM) to the Thuara-Jikany Movement'.
They stressed that this move led to the loss of 500 lives of Jikany-Nuer youth. 'Because of General Gatoth's self-interest together with General Chuol Gake.'
The community's leadership declared its intention to not follow any leaders who put their personal interests over the common interests, and to stand up against Jikany-Nuer who want to divide the entire Nuer community for their self-interest.
Photo: Commissioner Koang Rambang, on the right of former SPLM-IO deputy chief of staff Gathoth Gatkuoth, in Akobo (Nyamilepedia)
Related:
SPLA-IO defectors confirm formation of new rebellion (13 August 2015)