ADDIS ABABA -
10 Feb 2018
Former detainees seek assistance of Ethiopia in Machar's release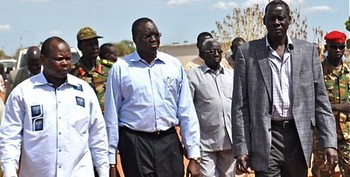 File photo
The Former Political Detainees (FDs), who also describe themselves as SPLM leaders, have sought assistance of the Chairman of the IGAD and the Prime Minister of Ethiopia, Hailemariam Desalegn, in the release of South Sudan's main armed opposition leader, Riek Machar from his forced confinement in South Africa.
The group, in a letter dated 8 February and seen by Radio Tamazuj today, said they believe that rebel leader Riek Machar has a critical role to play in the ongoing peace talks in Addis Ababa.
In the letter bearing the name of the group's leader Pagan Amum Okiech and addressed to Ethiopia's Prime Minister Hailemariam Desalegn, the politicians said Machar's release will give fresh positive impetus to the peace process in South Sudan.
"We, the SPLM Leaders (Former Political Detainees) have the honor to convey to Your Excellency the compliments of our highest consideration and wish to request your assistance in the release of SPLM-IO leader, Dr. Riek Machar Teny from confinement in South Africa," the letter reads in part.
"By asking for the release of Dr. Riek at this point in time, it is not our intention to imply that the power sharing relation between him and President Kiir pre-July 11, 2016 be restored unless stakeholders come to the conclusion that this is the best course of action," adds the letter.
The former political detainees said that the circumstances have significantly changed since July 2016 that new intervening circumstances have come in that must be taken into account as the parties figure out how to end the ongoing civil war.
According to the group, Machar's detention in South Africa has not helped in the search for peace and stability in the world's youngest nation.
Machar signed a peace accord in 2015 with President Salva Kiir, but the deal fell apart in July 2016, leading to deadly clashes in the capital Juba.
Machar fled to Congo and then went to Sudan for treatment. He then travelled to South Africa where he is being held to prevent him from going back to his country.
The decision was reportedly reached by IGAD countries in order to keep him away in the hope of preventing fighting in the world's youngest nation.