Former detainees plan to withdraw members from government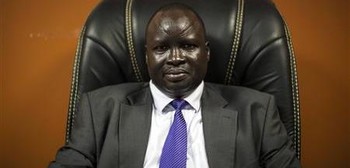 File photo: Majak D'Agoot
South Sudan's former deputy defense minister and leading member of the former detainees' group, Majak D'Agoot, said his group will withdraw its members from the coalition government if the next round of peace talks fails to bring about peace in the country.
SPLM-FDs is a faction made up of senior ruling party officials who were detained by President Kiir when the conflict began in December 2013.
Foreign minister Deng Alor Kuol, transports minister John Luk Jok, and lawmaker Madut Biar Yel are now representing the SPLM-FDs opposition group in the incumbent government in Juba according to the 2015 peace deal.
Speaking to Radio Tamazuj today, Majak said they will recall all their ministers from the government of national unity if there is no peace in the country.
The opposition official said the warring parties will enter a critical stage in the third round peace of talks, pointing out that the next peace talks will determine the future of the coalition government formed in 2015.
"The unity government brings together SPLM led by Salva Kiir, SPLM-IO led by Riek Machar, SPLM-FDs and other political parties, so if key stakeholders decided to withdraw from the agreement, then it will be valueless," he said.
"If the next peace talks fail, it will not be feasible to continue serving in the unity government, and it will no longer be called unity government. It will be an agreement between Kiir and Taban," he added.
Majak pointed out they will continue struggling through peaceful means until peace is realized in South Sudan. He said the government in Juba will be illegitimate when they withdraw their representatives.