Former detainees officially join opposition alliance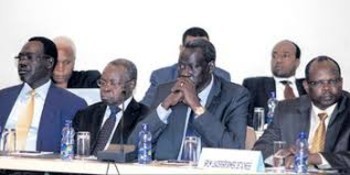 The Former Political Detainees (FDs), who also describe themselves as SPLM leaders, have officially announced that they had joined the opposition alliance.
The opposition alliance, whose most of its members are taking up arms against the Kiir administration, is now made up of nine opposition groups after the former detainees decided to join.
The opposition coalition left out the main opposition faction led by South Sudan's former first vice president turned rebel leader Riek Machar.
Speaking to Radio Tamazuj today, Kosti Manibe, the groups' spokesman said that they had joined the opposition alliance after internal discussions last month.
"We delayed because we have people in Juba and people outside Juba, and we need to discuss and agree that's why we gave ourselves time," Manibe said.
He pointed out that his group agrees with the main objective of the opposition alliance to bring change in South Sudan.
"We agreed on a common area that there must be a change. The conflict must come to an end, so fighting does not make sense," Manibe said.
Manibe said his group believes in peaceful means to change the current situation in South Sudan. "But we are not condemning anybody who is using force against the government in order to force it to the negotiating table," he said.
The opposition official pointed out that the former detainees' group was interested in the opposition alliance's program on governance and peace in the country.
He noted that their members who are still serving in the current government in Juba have also agreed to be part of the opposition alliance.
"Our being in Juba was part of an agreement signed in Addis Ababa, so we are in Juba because of the agreement," he said.