Former detainees' first priority is to stop war – Pagan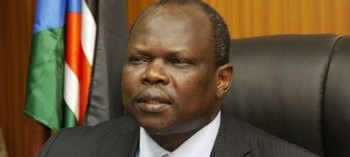 File photo: Pagan Amum
The top priority for the former political detainees' group is stopping war and bloodshed, leader of the former detainees Pagan Amum said in his interview with Radio Tamazuj in Addis Ababa today.
SPLM-FDs is a faction made up of senior ruling party officials who were detained when the conflict began in December 2013.
Pagan said stopping the ongoing war is their top priority. He said discussions on reforms and reunification of the party can be discussed when there is a conducive atmosphere for participatory discussions in the country.
He agreed with calls from the mediation team and several leaders that the second round of the revitalization process should be the last chance for peace to return to the country after years of suffering, destruction and killings.
Pagan called for regional support and global action against violators of the peace agreement. The South Sudanese politician expressed optimism that war will stop and peace will return to the country, pointing out that sustainable peace was paramount above party and individual interests.
"Our priority in my group is that stopping war is the first priority now. The unity of the SPLM is not the priority now. The real priority is to stop the war, stop the violence and when we have peace, then the SPLM in a peaceful environment can come together and discuss. Anybody who is interested in power, to maintain power or access power should submit to the will of the people," he said.
Peace talks between South Sudanese parties entered its third day today in Addis Ababa, Ethiopia.