Former detainees embark on rare meeting before they consider joining opposition coalition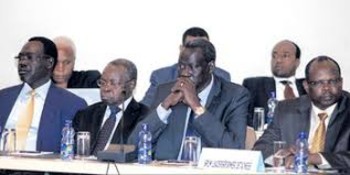 South Sudan's former deputy defense minister turned critic of the government in Juba, Majak D'Agoot, said they would embark on rare meetings before their group joins the opposition coalition.
Last week, nine opposition groups launched a new alliance and left out the opposition groups led by Riek Machar and Pagan Amum.
In an interview with Radio Tamazuj on Sunday, Majak said his group had a plan to meet today to agree on the key issues before they could consider joining the opposition alliance, besides the fate of their members who are serving in the unity government in Juba if the next round of peace talks fails.
Majak, who is a leading member of the former political detainees, said their group is willing to be part of the opposition alliance announced recently. "We are actually the driving force behind the formation of the opposition coalition so that the opposition can agree on the key issues concerning our country," Majak said.
"We did not sign the Charter of the coalition because we have our internal arrangements, including the meeting," Majak added.
"We do not have any problem with our brothers who have already gone ahead and signed the Charter of the opposition coalition. When we resolve our internal issues, we will join the opposition alliance."
The South Sudanese politician lamented that most of the opposition groups have divergent views on how to find radical solutions to the ongoing conflict in the country. "Our group has presented its view on how to resolve the conflict. We demanded that Kiir, Riek Machar and all leaders of the political parties should not be part of the transitional government," he said.
"We demand for a transitional government in the form of a hybrid administration that should be composed mostly of technocrats," he added.
Majak D'Agoot emphasized the importance of advancing a democratic transformation in South Sudan." What we want is for the country to move forward, "he said.