Former political detainees condemn ceasefire violation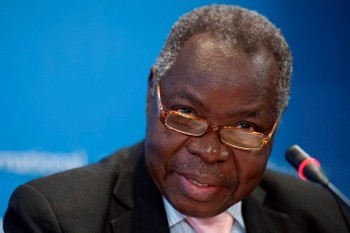 File photo: Kosti Manibe
The Former Political Detainees (FDs), who also describe themselves as SPLM leaders group, condemned in the strongest terms possible what they termed the callous violations of the cessation of hostilities agreement.
The former detainees are a group of high level SPLM leaders who were arrested and released at the start of the South Sudan Civil War in December 2013 before going into exile in neighboring countries.
In a statement bearing the name of the group's spokesman Kosti Manibe Ngai, the former detainees condemned the country's First Vice President Taban Deng Gai for moving a large contingent of government troops into Jonglei.
"It is appalling that the Government, through its Spokesman, Minister Michael Makuei has shamelessly come in the open to announce this violation while at the same time trying to justify it as an innocent and harmless visit by the FVP to his constituents," the group said.
"Whether as a signatory to the CoH Agreement in his own right (SPLM-IO/Taban) or as part of TGoNU, FVP Taban Deng Gai is bound by the terms of the Agreement and should be held responsible for its violation as required by the terms of that Agreement," partly reads the statement.
The group urged the IGAD mediators, the guarantors and witnesses of the 21st December, 2017 ceasefire agreement to prevail on the government of South Sudan to immediately halt movement of the contingent of battle ready troops that has been moved into Jonglei recently allegedly with the intention of attacking and capturing Akobo and other surrounding areas.
"We further urge CTSSAM to investigate any reported violation as soon as it is reported rather than waiting for days, weeks or even months before doing it," they said.
The opposition leaders also urged the international community to impose sanctions on those who violate the ceasefire agreement.