Former Aweil West County commissioner released on bail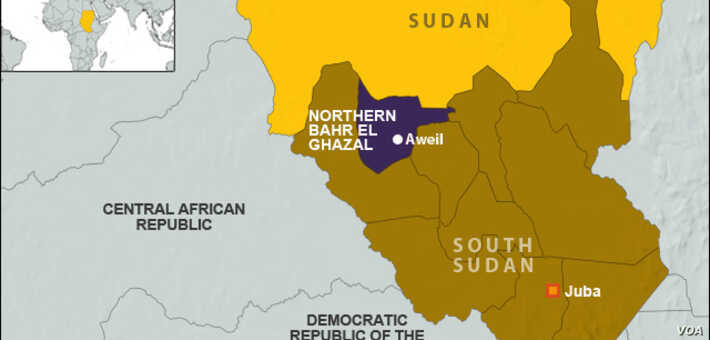 Authorities in Aweil West County of Northern Bahr el Ghazal State say they freed the county's former commissioner, Stephen Wieu Guot, on Monday but that he will be rearrested if he fails to pay monies he owes a local businessman.
The former county official was arrested by the police in Aweil town on 10 July for receiving SSP 2 million from a local businessman in exchange for an electric generator which he did not deliver.
After his arrest in Aweil, Wieu was transferred to Aweil West County where the court was scheduled to hear the matter.
The Aweil West County police inspector, Maj. Deng Mathon Akot, told Radio Tamazuj on Wednesday that the commissioner was bailed out of Nyamlel Prison on Monday this week but that he will be rearrested if he fails to clear the debt.
"Yes, the former county commissioner was bailed out on Monday, 19 July, but he was not able to pay the money. If he pays, he will not come back to court, but if he fails, he will appear again in court," Gen. Mathon said.
For his part, the embattled former commissioner, Stephen Wieu Guot, speaking from Wau town in Western Bahr el Ghazal State said he was released after his friends and colleagues managed to contribute the amount claimed by the state government.
"The money was sent by only four people; Ayii Duang Ayii, Akol Koor Kuc, Akuei Ajou Manyiel, and Aldo Ajou," Wieu said.
He accused the Northern Bahr el Ghazal State government of failing to avail him with money when he was in office and that he sold the electric generator to get money to facilitate government activities. Wieu said he immediately traveled to Wau to avoid political tensions between him and Northern Bahr el Ghazal State governor Tong Akeen Ngor.
"I am in Wau now, in the house of the governor of Western Bahr el Ghazal State Sarah Cleto because my presence in Aweil would have caused political tensions and that means people will turn against the current governor over my case," Wieu said.
At the time of his arrest, nearly two weeks ago, the former commissioner said that while still in office, he chaired a meeting of the county security committee, which decided to dispose of the generator, and that due process was followed. He acknowledged receipt of only 1 million SSP from the complainant which he said he will pay back.
"What happened on the generator is that it was a meeting of the security organs at the county level chaired by me that looked into the situation that the county headquarters didn't have a vehicle and there was another nonfunctional vehicle in Marial-Baai Payam from the Community Development Fund which was not functioning," Wieu explained then. "The security organs at the county level came up with a decision that we have two generators so we have to dispose of one of them so that the money can be used for renovating a guardhouse and to repair the car and for paying loans the county took."